Rich, creamy Mochacchino Butter is a unique blend of Coffee Bean and Cocoa Butter.  It's all natural aroma is absolutely delicious, and it's texture is smooth and moisturizing.  These Massage Melts are the perfect size for single massages.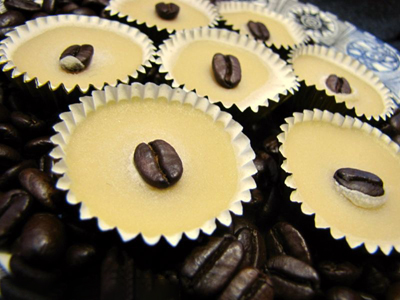 Mochacchino Massage Melts
Makes 8 – 10 Bath Melts
Ingredients
2 ounces Mochacchino Butter
1 tablespoon Jojoba Esters MP70
2 ounces Babassu Oil
8-10 Coffee Beans
Directions
Place 10 foil cups on a jelly roll pan, or other flat surface and set aside.  In a double boiler, gently melt the Jojoba Esters completely, followed by the Mochacchino Butter and Babassu Oil.  After all of the ingredients have fully melted, stir the mixture well.  Carefully pour the hot mixture into the foil cups.  Allow the Melts to cool for 5 – 10 minutes, or until a firm layer forms on the top.  When the Melts reach this stage, gently press an individual coffee bean into each melt.
Note: This recipe can easily be converted to make Bath Melts instead of Massage Melts. To make Bath Melts, use 2 teaspoons of Jojoba Esters instead of the tablespoon called for in the original recipe.  Also, it would make a nice addition to sift 1-2 tablespoons of Fine Oat Flour into the mixture.
To Use: Simply unwrap a single Mochacchino Massage Melt, and warm it between your hands.  The gentle body heat will soften the Melt, turning it into a slick, massage oil.  The Melt can also be warmed directly on the skin of the person being massaged.