Pink Peppercorn & Peruvian Myrtle Massage Oil: a stimulating massage blend made with pink peppercorn, Peruvian myrtle, and Brazil nut oil.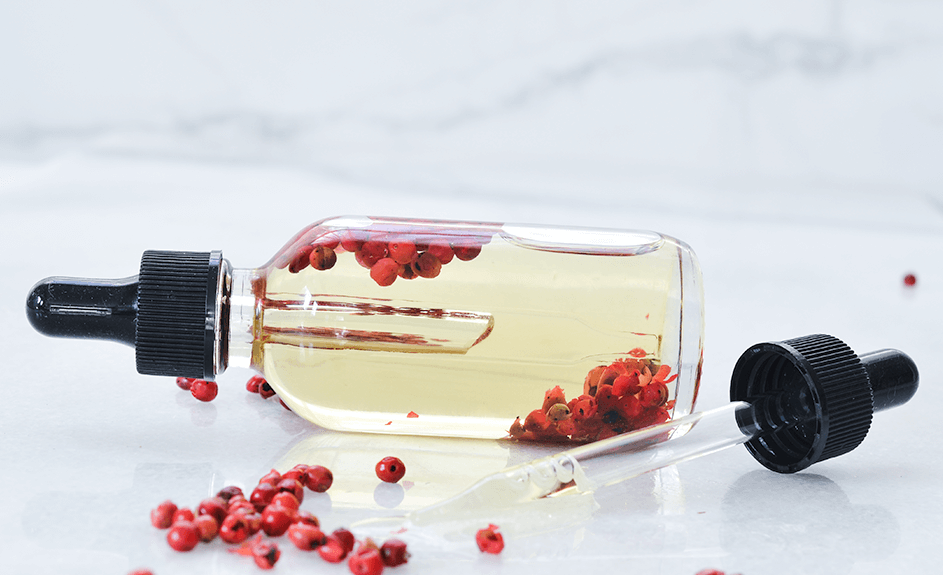 The warm aroma of Pink Peppercorn Essential Oil plays center stage in our Pink Peppercorn & Peruvian Myrtle Massage Oil. Adding an extra boost of supportive essential oils to a massage blend can help to enhance the benefits and the experience of massage.
Pink Peppercorn adds a warm aroma and sensation while Peruvian Myrtle gives the blend an invigorating aroma that can help reduce feelings of exhaustion and fatigue. We added a splash of our FCF-Free Organic Bergamot Essential Oil to brighten the mix with its cheerful floral citrus scent.
You can easily customize our Pink Peppercorn & Peruvian Myrtle Massage Oil by swapping out essential oils or carrier oils to taste. Other aromatic ingredients we love for massage blends include: Arnica Flower Total CO2 Extract, Cypress Essential Oil, Organic Peppermint Essential Oil, and Ginger Essential Oil.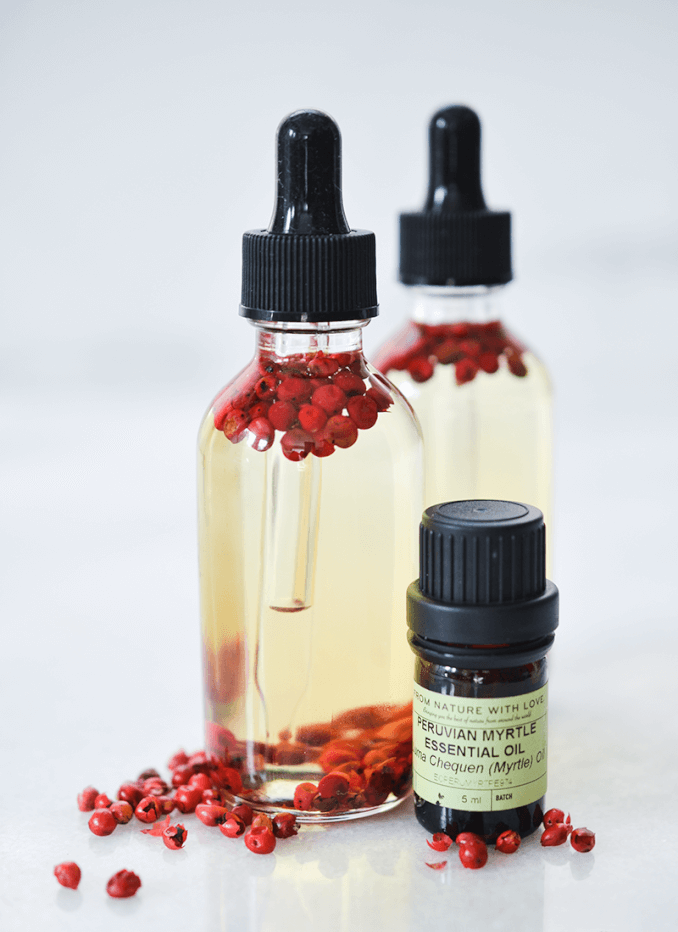 ABOUT THE INGREDIENTS
Organic Camellia Oil
Also known as Tea Seed Oil, Camellia is crafted from the same plant that produces green tea. Camellia Oil is rich in antioxidants and well-known for its versatility in a wide range of products. In massage formulations, Camellia Oil makes a superb carrier for essential oils and extracts. It has a natural cooling effect on the skin and is light and non-greasy.
Brazil nut Oil
Brazil Nut Oil has a slightly richer texture than Camellia, which adds body to our Pink Peppercorn & Peruvian Myrtle Massage Oil. It is deeply moisturizing and works well in both hair care and body care products. Brazil Nut Oil provides a smooth, slippery base for massage and makes an excellent carrier for Essential Oils and Co2 Extracts.
Pink Peppercorn Essential Oil
Although Pink and Black Pepper are very different botanically speaking, the two plants carry many similar benefits and components. Perhaps the most noteworthy of these characteristics, especially when used in massage products, is the presence of monoterpenes including a-Phellandrene, Myrcene, Limonene, B-Phellandrene and a-Pinene. Pink Peppercorn possesses an abundance of monoterpenes – about 30% more than Black Pepper. These components are responsible for Pink Peppercorn's reputation as a stimulating and invigorating essential oil.
Peruvian Myrtle Essential Oil
The bold and camphorous aroma of Peruvian Myrtle Essential Oil blends beautifully with sweet bergamot and spicy peppercorn. This potent oil contains limonene, linalool and cineole, making it a beneficial ingredient for therapeutic massage blends. Peruvian Myrtle Essential Oil is believed to support muscular health. Due to its potency, it should be used at a low ratio (a maximum of 1.9% is recommended.)
Organic Bergamot (FCF) Essential Oil
Our FCF Organic Bergamot Essential Oil offers the delightful aroma of bergamot without the phytotoxicity concerns typically associated with bergamot oils. Offering an essential oil free of furanocoumarin allows for a much wider range of uses for bergamot. The sweet, citrus and floral aroma of Bergamot Essential Oil blends very well with spices, woods, and herbs. In aromatherapy, bergamot is often considered uplifting, balancing, and rejuvenating.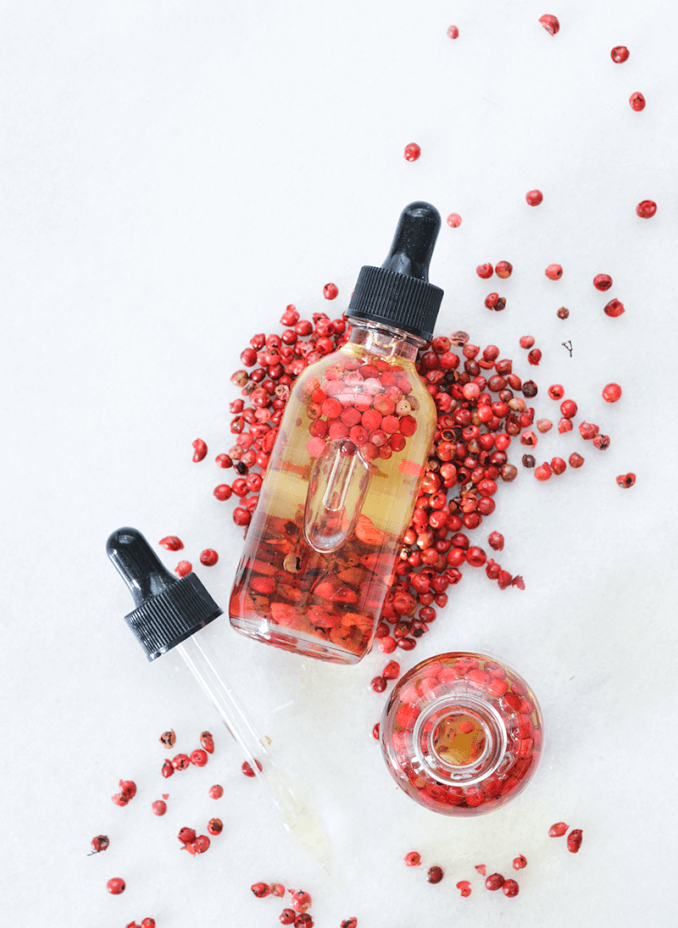 PINK PEPPERCORN & PERUVIAN MYRTLE MASSAGE OIL
Makes about 4 ounces (120 ml)
Ingredients
60 ml Organic Camellia Oil
60 ml Brazil nut Oil
1.25 ml Pink Peppercorn Essential Oil
1.25 ml Peruvian Myrtle Essential Oil
0.65 ml Organic Bergamot (FCF) Essential Oil
Directions
Combine camellia and Brazil nut oils in mixing vessel and blend well.
Add essential oils and mix until fully dispersed.
Transfer to bottles.
Usage & Packaging
We packaged our Pink Peppercorn & Peruvian Myrtle Massage Oils in Flint Glass Bottles. Glass or Stainless Steel Bottles are ideal for massage blends containing essential oils. If you prefer, you can also use a heavy duty plastic bottle such as our PET Cosmo or Boston Rounds.
To use, pour a small amount of oil into your hands and warm gently between your palms. Massage oil onto skin until absorbed. Repeat as needed. Due to the presence of spice oils, we do not recommend using this massage oil on sensitive areas such as the face or bikini area.